The greenhouse at OARDC does more than just provide a place for plant care. It also provides a space in which we can know, much faster than in a natural population, what plants exactly, we have. The process of phenotyping is one that requires a substantial amount of time. You have to catalog plant numbers and catalog IDs and plant stage and pollen color and petal color and any other notes that we deem necessary. It really can take up a lot of time (I'm telling you from experience).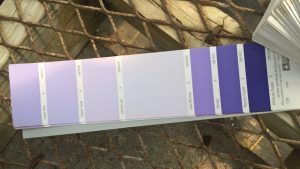 Phenotyping requires the use of these color swatches. As C. americana, has a variety of color that ranges from white to dark purple, there is a great benefit that comes from knowing which color exactly we have in the greenhouse.
There is, as we knew there would be, a large range of color within the greenhouse. The phenotyping has allowed us not just to get an eye for the pollen color itself, but also in sorting the plants within the greenhouse.
The benefits of phenotyping extend beyond the greenhouse, as it gives us experience for when we have to move into phenotyping a natural population; which though may take even more time, will allow us to know exactly (relatively) what plants are in Akron, Killbuck, and the other sites we frequent.