Overview of research interests
The Ison lab members have research interests in ecology, conservation biology, and ecological genetics. We study how anthropogenic (i.e., human-induced) alterations to natural areas are impacting native plant populations. In North America, nearly all of our natural areas have been fragmented, and many populations are small and isolated. In fact, less than 1% of the pre-settlement prairie remains. The fragmentation and loss of habitats mean that the remaining native plant populations are often subject to the ecological and genetic consequences of small population sizes. Our research examines how flowering time, plant density, and pollinator taxa affect population persistence across a fragmented landscape. Below are a few of the lab's active research projects.
CONSEQUENCES OF FRAGMENTATION FOR NATIVE PLANTS AND GROUND-NESTING BEES IN THE PRAIRIE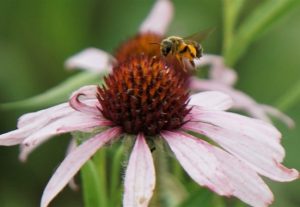 Our long-term field-based research takes place in western Minnesota at remnant tallgrass prairie sites and two large experimental prairie plots. Reproduction in flowering plants is particularly vulnerable to fragmentation and the loss of insect pollinators. Even though solitary ground-nesting bees are common pollinators for many plant species, most pollination research has mainly focused on large social bees—bumblebees and the non-native honeybee. Our focal plant species, Echinacea angustifolia, is pollinated by 26 species of ground-nesting bees, and we are interested in understanding how changes in the pollinator community are impacting Echinacea Over the years we have examined the spatial and temporal mating patterns in Echinacea, within-season temporal variation in both the pollinator community and in pollinator service provided to Echinacea (see Ison et al. 2014 & Ison & Wagenius 2014).
For more information about broader Echinacea project visit: http://echinaceaproject.org/ and check out our field blog: http://echinaceaproject.org/flog/
Previous IS research:
Avery Pearson '20: Independent bees working together: Male fitness of prairie perennial Echinacea angustifolia is more influenced by cumulative bee visitation than by any individual species

Zeke Zelman '19: Specialist pollinator Andrena removes more Echinacea angustifolia pollen per visit than more generalist bee taxa

Leah Prescott '17: How does generalist pollinators floral constancy behavior change over the flowering season?

Kathleen Hogg '16: Quantifying hybridization between the native Echinacea angustifolia and the introduced pallida using microsatellite markers.
THE POTENTIAL FOR POLLINATOR-MEDIATED FLORAL TRAIT EVOLUTION, GIVEN THE LIMITED VISUAL ACUITY OF MOST POLLINATING INSECTS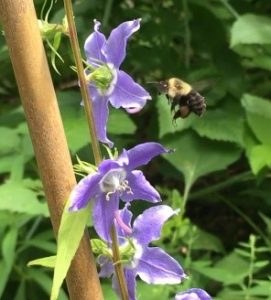 The flowers of insect-pollinated plants often have many visual cues to attract insect pollinators. Plant evolutionary ecologist often hypothesize that insect preference causes the evolution of floral plant traits. However, insect vision is quite different from human vision. For example, the finest measured visual acuity of any insect, measured in a dragonfly species, would be considered legally blind in humans. Therefore, insect pollinators may not be able to perceive the detailed patterning of flowers. Our previous research demonstrated that bumblebees could perceive large differences in pollen color (white vs. purple pollen) in American Bellflower (Campanula americana). Based on this, we have been able to further investigate the extent and limitations of bumblebee vision using 3-D printed artificial flowers of Campanula americana. This research is in collaboration with Dr. Nick Brandley's lab. 
To learn more about field research with American Bellflower, take a look at our field blog page: https://isonlab.voices.wooster.edu/bellflower-fun/.
For more information on the 3-D flowers and bumblebee flight cage work, check out this article on Jess Roberts '20 and KC Okoronkwo's '20 IS research from the RWW Greenhouse website: https://rwwgreenhouse.voices.wooster.edu/bumblebees-and-fake-flowers/
Previous IS research:
KC Okoronkwo '20: Learning and memory examination of Bombus impatiens bumblebees on Campanula americana American Bellflower

Jess Roberts '20: Through the lens of bumble goggles: Manipulating visual and olfactory cues of 3-D printed realistic flowers for Bombus impatiens to monitor their learning and decision making

Mary Kate Norton '19: Bumblebees Can Learn and Remember Floral Trait Differences

on a 3D Printed Model of American Bellflower, Campanula americana

Ashley Padilla '18: Busy bees: Comparing pollinator efficiencies of the three primary American bellflower pollinator taxa

Elizabeth Tuan '18: The Role of Pollinator Preference on the Maintenance of Pollen Color Polymorphisms in the American Bellflower, Campanula americana

Jack Whalen '18: Visual acuity and pollen color preference in bumblebees
QUANTIFYING THE CONSEQUENCES OF FRAGMENTATION IN THE HUMMINGBIRD POLLINATED PLANT, ERYTHRINA FLABELLIFORMIS (CORAL BEAN)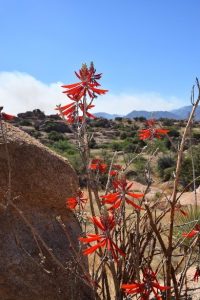 In fragmented plant populations, characterizing pollination patterns can give insights into gene flow between populations and can help us predict if the plants are going to persist into the future. For many years, professor emeritus, Dr. Lyn Loveless, has been studying the pollination patterns of a native hummingbird-pollinated plant, Coral Bean, in Arizona. Hummingbirds can likely move pollen long distances, even between small isolated populations. In this system, we have been able to investigate the degree of relatedness between plants, and the distances hummingbirds have moved Coral Bean pollen.
Previous IS research:
Mia Stevens '20: Hummingbirds are not Fab-aceae pollinators: Erythrina flabelliformis, a hummingbird-pollinated desert perennial, has significant fine-scale genetic structure and low pollen movement distances

Megan Zerrer '18: The birds and the beans: Assessing phenotypic and genetic variation in populations of hummingbird-pollinated Erythrina flabelliformis
FACILITATING A POLLINATOR-FRIENDLY CAMPUS
Campuses across the country have initiated projects to become more pollinator-friendly, and CoW is no exception! Our Grounds Department has worked for years to include native and pollinator-friendly plantings across the campus. In Fall 2019, students in Plant-Insect Interactions (PII) partnered with Grounds and Environmental Studies to propose projects that could make the campus more pollinator-friendly. In 2020, the Environmental Studies department, headed by Dr. Matt Mariola and Dr. Carlo Moreno, began work on a pollinator garden on the CoW campus, which will provide an excellent opportunity to monitor and expand the native pollinator presence on campus, as well as to help educate the public on native plants and pollinators.
Previous IS research:
The 2020-21 school year will be my first year working with this system. Check back later to see the results of Miyauna Incarnato's ('21) IS research focusing on the pollinator garden during the 2020-21 year!
DUTCHMAN'S BREECHES: DICENTRA CUCULLARIA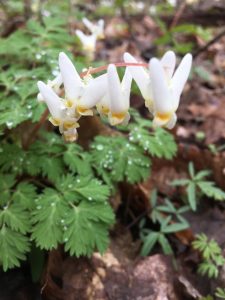 Dutchman's Breeches is in the same genus, Dicentra, as the common garden plant Bleeding Heart, and has a similar unusual floral morphology. Dicentra species have four highly modified petals that hang down from the flowering stem. In Dutchman's Breeches, the two larger petals create a nectar spur along the outside of the flower, while the two smaller petals surround the male and female reproductive structures. For successful pollination, a pollinator must be large enough to pry apart the smaller petals from around the reproductive structures, which means most solitary bees and fly species are ineffective pollinators, but queen bumblebees are highly effective. In the 1960s/70s, local botanist and University of Akron Professor, L.W. Macior, observed at least seven species of bumblebee queens visiting Ohioan populations of Dutchman's Breeches, and the plant's flower time was synchronous with the emergence of these queen bumblebees. However, in the intervening decades bumblebee populations have plummeted, and climate change has altered the timing of life-cycle events. It remains unclear how the decline in bumblebees and potential plant-pollinator temporal mismatch have impacted the reproductive fitness of Dutchman's Breeches individuals. We've started monitoring a large Dutchman's Breeches population at Wooster Memorial Park and in upcoming springs will begin doing pollinator observations. 
Previous IS research:
This is a new project for me, so I have not advised any IS projects in this system yet. However, if you have questions you'd like to explore with this system, please consider working in this system as you head into Junior IS!
ECOLOGICAL AND NATURAL HISTORY PROJECTS AT FERN VALLEY FIELD STATION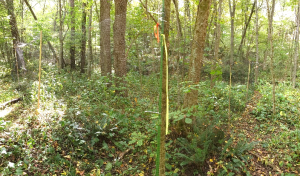 Fern Valley Field Station is a second-growth forest owned by CoW for teaching and research purposes. Many ecological or natural history projects can be conducted at Fern Valley. One of our long-term projects examines the consequences of deer browsing and invasive plants on native plants and animals. We created experimental plots in 2016 where invasive plant species were either removed or not removed and where deer were either excluded or not excluded. We are hoping to further expand upon this project and begin new projects at Fern Valley in the future!
Previous IS research:
James Austin '18: The Impact of Invasive Plant Competition, and Deer Grazing, on Native Plant Species in a Secondary-Growth Forest

Mallorey Stack '17: The impacts of deer browsing and invasive species on native flowering plants at Fern Valley.
CHECK BACK FOR MORE DETAILS ON OUR RESEARCH!