This past week, Jack and I have been collecting pollinator efficiency data using the flight cage! Following a bit of troubleshooting with the flight cage, we have finally settled on a set-up that seems to be working well. Leaving the hive outside and giving the bees free range of Fern Valley has been a good change of scenery for our bug friends. And because it was a bit too hot and dark in the cabin, we have moved the flight cage outside as well. Although it was a slow start, our bumblebees have proven themselves to be excellent Campanula foragers! By increasing the number of plants we bring and adding sucrose water to the nectaries (of mid-range, non-pollinator efficiency plants), we are on our way to reaching Ashley's Bombus visitation goal for the pollinator efficiency project. As of today, we have received 30 visits to pollen removal and seed set, with only a handful to go for pollen deposition! Much thanks to the bees, who were raring to go and quickly began foraging on the flowers. It was good for our numbers, but perhaps a bit unlucky for Jack and I, as it was very hectic in the flight cage and we both had a couple close calls with some curious bees. Thankfully, no one was stung…this time.
– Elizabeth T.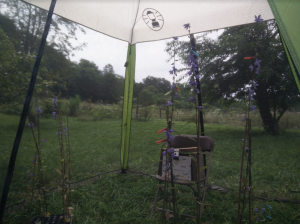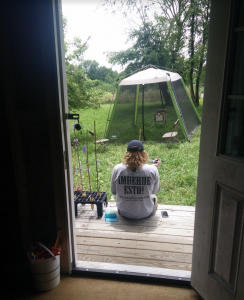 Working in Fern Valley has provided the opportunity for very controlled field research. At the College's Field station, we have been able to allow the pollinators a natural foraging lifestyle, while also giving ourselves the opportunity to work with the pollinator hive for research. After finishing finishing up with pollinator efficiency data collection, we will be attempting to train the Bombus bee hive to recognize pollen color as an indication factor for individual plant qualities. To do this we will be supplementing the already existing nectar by pipetting a very small amount of wither regular or sugar solution water into the nectaries of the plants. Elizabeth, the team and I have been working so hard to ensure that the plants thrive in their natural state for most of the summer, that manipulating them seems a bit out of the norm. Regardless, by adding sugar water to dark pollen phenotype flowers and control "normal" water to the light pollen, we hope to be able to train the bees to use the pollen color as a trigger for decision making when they are foraging.
-Jack W.

Elizabeth keeping a close eye on the bees.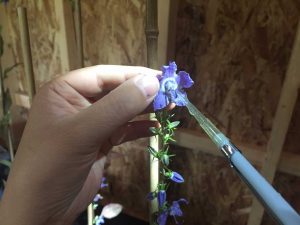 Adding "nectar".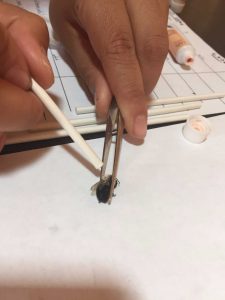 Painting forager tags.